Explore AAM's Programs, Services, and Membership Benefits
Welcome to the virtual AAM Resource Center! Spend a few minutes here to learn more about:
How and why to participate in the Accreditation and Museum Assessment Programs
Practical tools and inspirational content from the Alliance of Museums's Center for the Future of Museums
How to advocate and stay up speed on legislative issues that impact your museum
How to make the most of your AAM membership benefits
Diversity, Equity, Access, and Inclusion work at AAM and resources you can use to advance DEAI at your museum
How to get your article, blog, or book published by AAM
Chat with us! AAM staff will be available ih the chat during #AAMvirtual – see the schedule below.

Check out the Alliance's COVID-19 guide with resources & information for the museum field to help you navigate the broader impact of COVID-19, including considerations for reopening and information on financial resources and relief.

Donate and learn more about how you can support AAM programs
Member Resources—Make the Most of Your Membership
Watch

Learn more about your membership options and benefits.
Advocate, Excel, and Empower
Center for the Future of Museums
Understanding that the dynamic nature of our cultural, political, and economic landscape directly affects how we interact with museums, the Center for the Future of Museums (CFM) helps museums navigate the future. Learn more.
Download: CFM's scenario and financial resources to support your planning:
Watch
Museums as Keepers of the Future - Special Access for #AAMv Attendees
Video recording of CFM Director Elizabeth Merritt's lecture "Museums as Keepers of the Future" delivered at Museum Theme Days, Helsinki, Finland, 2019.
Traditionally, museums are custodians of the past and present while futurists are stewards of times yet to come. Fusing these two approaches can empower museum audiences and communities to build a better world. But to become "keepers of the future," museums must overcome three challenges: to repair their own memory of the past; tell true stories about things that haven't happened yet; and listen to generations not yet born.
Explore How Museums Can Rebuild Public Trust
The Alliance's Center for the Future of Museums has released a video and discussion guide exploring truth, trust, and museums, an issue that is even more urgent as museums and their communities cope with the COVID-19 pandemic and its aftermath. The workbook and accompanying video can be used to explore the challenges and opportunities presented by the precipitous decline in the public's trust of government, media, and nonprofit organizations. Details and purchasing information here.
Advocacy—Speak up for Museums
The Alliance helps museums tell the stories of their important activities and contributions and promotes a deeper understanding of museums with policymakers, the press, and the public. And empowers you to do it too! Learn more.
Resources
Watch
AAM Testimony (at 1 hr 36 min mark) / (PDF Testimony here)
Mairéad Bernadita Brennan, Evolutions After School Program Student/Yale Peabody Museum of Natural History, New Haven, Connecticut, testifying on behalf of AAM in support of funding for the Office of Museum Services at IMLS before the House Appropriations Labor, Health and Human Services, Education Committee) last spring.
The Continuum of Excellence
Help your museum be the best it can be in carrying out its public trust, collections stewardship, and educational roles. AAM's Excellence programs support, motivate, and celebrate your museum's commitment to meeting standards and professional practices. Learn more.
Core Documents Verification
Receive recognition and validation that your museum's mission and core policies meet standards for professional museums. Build on your museum's accomplishments with a document review program that verifies that your institution's educational mission, strategic plan, emergency plan, code of ethics, and collections management policy meet the standards for professional museums.
Museum Assessment Program (MAP)
Benchmark your museum's practices to standards and strengthen operations through self-assessment and expert peer consultation. MAP is a powerful tool designed to support your museum at any point along the Continuum of Excellence. Through a one-year process of self-assessment, institutional activities, and consultative peer review, your museum emerges with an analysis of its strengths, weaknesses, and opportunities; and a prioritized roadmap for improving operations and meeting standards.
Accreditation Program
Earn recognition for your museum's commitment to, and demonstration of, the professional standards for education, public service, and collections care. For more than 45 years, the Accreditation Program has been recognized as the gold standard of museum excellence. As the museum field's mark of distinction, accreditation offers high profile, peer-based validation of your museum's operations and impact. Accreditation increases your museum's credibility and value to funders, policy makers, community, and peers. Accreditation is a powerful tool to leverage change and helps facilitate loans between institutions.
Watch: 1st Steps to Accreditation
Peer Review—Enhance your Career
Enhance your career with free professional development and give back to the field at the same time with this volunteer opportunity.
Watch: Want to be an Excellence Program Peer Reviewer? (Transcript here)
Facing Change: Diversity, Equity, Access, and Inclusion
The Alliance highlights diversity, equity, accessibility, and inclusion as a key focus area in its current strategic plan. We believe that equity is our goal, inclusion is how we move toward that goal, and diversity describes the breadth of our experiences and perspectives. Learn more.
AAM is leading an unprecedented national initiative to diversify museum boards and build inclusive museum cultures through a framework of training, and resources for museum leaders to build inclusive cultures within their institutions that more accurately reflect the communities they serve.
Watch: Facing Change: Advancing Museum Board Diversity & Inclusion
Download: Facing Change: Insights from AAM's DEAI Working Group
More DEAI resources and articles
Get Published! Write for AAM
AAM offers various content/publishing opportunities. Watch to find out more about the options; article submission process for the blog and the magazine; how to contribute resources; and how to pitch a book to the AAM Press.
AAM Press
The Alliance is happy to partner with Rowman & Littlefield (R&L) as its co-publisher and book seller to offer the best and most comprehensive literature for and about museums.
Browse and purchase current titles in Rowman & Littlefield's digital catalog. AAM Members receive 20% off AAM Books, just use code AAMPRESS20 when ordering.
And find AAM-issued reports, Toolkits, and Salary Surveys here.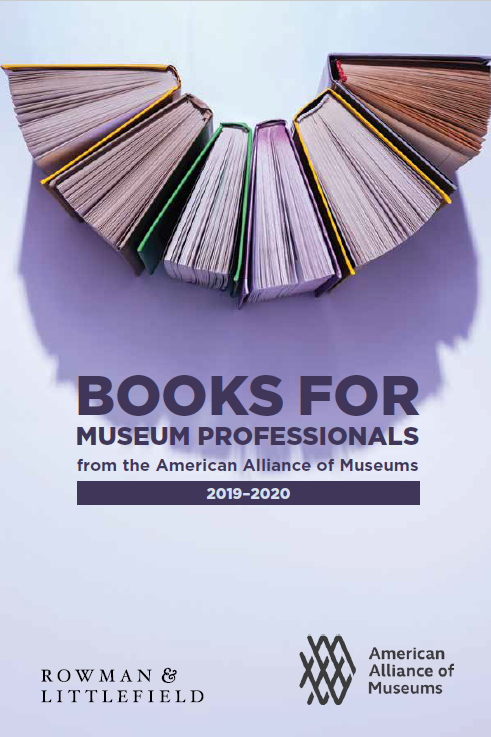 Chat With Us! "Office Hours" with AAM Staff
Excellence Program Officers: M-W during Expo breaks
Elizabeth Merritt, Vice President, Strategic Foresight and Founding Director, Center for the Future of Museums
• Monday, June 1st at 11:00 – 12:30
• Tuesday, June 2nd at 11:30 – 12:30
• Wednesday, June 3rd at 11:00 – 12:30
Membership Team: Kristin Herlihy & Lauren Griffin
• June 1st at 11:00 – 12:30
• June 3rd at 11:00 – 12:30
| Access Date | Quiz Result | Score | Actions |
| --- | --- | --- | --- |
Purchase #AAMvirtual Recordings
#AAMvirtual registrants have instant access to all recordings as part of their registration. Simply login to view session recordings.

If you did not register for #AAMVirtual, the session recordings are now available for purchase (one package of all recordings). Simply click on the link below, click "register," add the conference recordings to your cart, and create an account to complete payment. After payment, you will immediately have access to view the sessions at your convenience through the end of 2020.
PURCHASE RECORDINGS
Need Technical Support?
This site has been optimized for Chrome, Mozilla Firefox, and Safari. If you usually use Internet Explorer, please switch to another browser.

Need further support, please visit our FAQ page.