About Us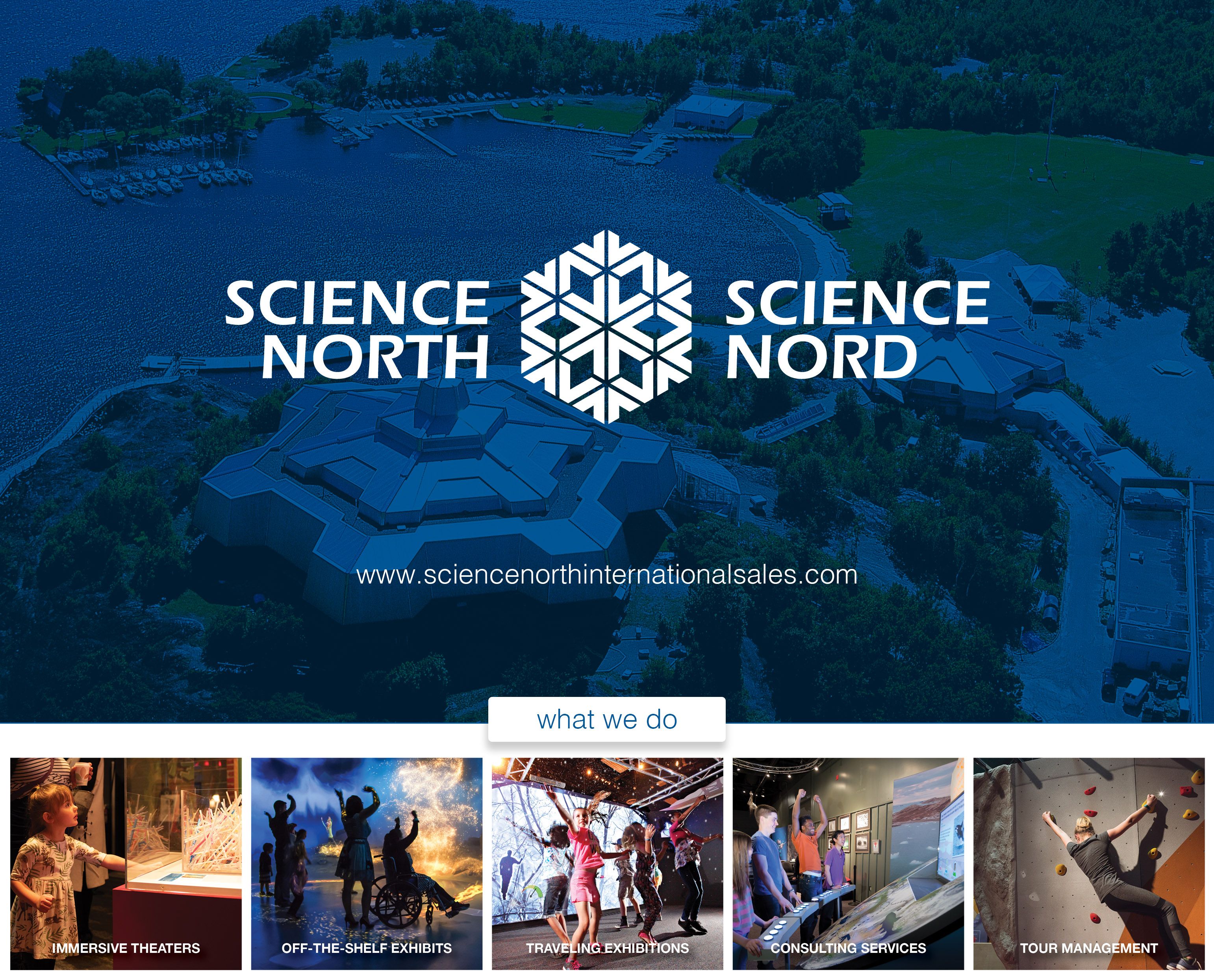 Science North is Canada's 2nd largest science center and the number one tourist attraction in Northern Ontario. We understand that true innovation is a process of continuous renewal. That is why our creative, visionary, and dedicated team is committed to continuous change as a cornerstone of our ongoing development. We know, from over 35 years of experience, that this approach keeps visitors coming back. Science North has an annual attendance of 200,000+ visitors, in a city with a population of 165,000 residents. This is one of the highest capture rates in the cultural attractions industry.
We have conceived, designed, and created ground breaking and enormously popular interactive visitor experiences. Our work has made Science North and Dynamic Earth Northern Ontario's most popular tourist attraction and a valued educational resource. What we have created has inspired and rewarded the curiosity of countless visitors. From the outset, our work has drawn the attention of visitor attractions worldwide. They saw that something very special was happening in Sudbury and wanted to share it with their visitors. And so we started selling adapted versions of our exhibits. Soon, we were acknowledged as world leaders in the precise art of creating science discovery experiences that were both mind expanding and mind blowing! And so, for over 30 years now, we have been creating and co-creating stunning, original, visitor experiences for an ever growing list of clients.
Who We Are
We are the experienced, talented, and enthusiastic team of over 100 creative people at Science North and Dynamic Earth.
We are scientists and artists, producers and fabricators, designers and project managers. We are big picture thinkers with sharp eyes for detail.
We have an unparalleled capacity to create for you Visitor Experiences that are exactly what you want and more than you ever imagined.
| Access Date | Quiz Result | Score | Actions |
| --- | --- | --- | --- |
Purchase #AAMvirtual Recordings
#AAMvirtual registrants have instant access to all recordings as part of their registration. Simply login to view session recordings.

If you did not register for #AAMVirtual, the session recordings are now available for purchase (one package of all recordings). Simply click on the link below, click "register," add the conference recordings to your cart, and create an account to complete payment. After payment, you will immediately have access to view the sessions at your convenience through the end of 2020.
PURCHASE RECORDINGS
Need Technical Support?
This site has been optimized for Chrome, Mozilla Firefox, and Safari. If you usually use Internet Explorer, please switch to another browser.

Need further support, please visit our FAQ page.